Natural Health Packaging Solutions
Nearly 7 Decades of Serving the Natural Health Industry
CCL Healthcare is the market leader in the natural health and nutraceutical  printed packaging  space. CCL Healthcare has the largest array of packaging to make your product stand out and be the star on the shelf. We can help with meeting any regulatory requirements, expand content areas, enhance on-pack promotions, smart packaging and sustainable product packaging designs. With over 65 years of experience no other printer/converter has our level of  experience to help your brand create the stopping power at the shelf.  
CCL Healthcare Knows Natural Health
Natural health products (NHPs) are vitamins and minerals, herbal remedies, homeopathic medicines, traditional medicines, probiotics, and other products like amino acids and essential fatty acids. Under regulations, the Natural Health products must be safe for consideration as a nonprescription product and available for self-care and self-selection. CCL Healthcare helps Natural Health companies comply with these regulations.  CCL has been serving the Natural Health industry for more than 40 years with innovative labeling and packaging solutions to enhance the user experience with patient safety and education as a priority.  CCL offers cutting edge solutions with smart labels and packaging that can communicate with the end user to ensure the integrity of vitamins, minerals, etc. With CCL's diverse line of products, we offer a single source solution which streamlines the supply chain with the added advantage of driving down cost. With a proven track record of 98% on time delivery, superior quality, and a stringent quality assurance process, you can depend on CCL to deliver.
Partner with CCL for your next study to receive:
Do you need unique packaging designs or formats?
Our engineers are ready to help your brand enhance your packaging with embellishments, speciality inks, sustainable materials or new innovative packaging designs. 
Need to launch a Product?
When it comes time to launch or relaunch a product, CCL healthcare can ensure your brand is ready to go and can scale your brand globally. We have launched thousands of brands globally. 
Looking for regional campaigns?
CCL Healthcare has your brand covered. We can variably print your packaging for regional campaigns or even create each package to be unique, utilizing the state-of-the-art digital printing technology.
CCL Healthcare has a large variety of options to deliver your on-pack promotions to drive your next advertising campaign.
Our facilities utilize advanced printing technologies, proven quality assurance processes to ensure we deliver your brand the highest quality labels and packaging with consistent colors match, to make your product the star of the shelf. 
Explore Our Pharmaceutical Labels and Packaging
Literature
Leaflets, Booklets, IFUs, and Pads
Pharmaceutical Labels and Packaging Blog
Welcome to the world of pharmaceutical packaging! In this blog, we will dive into the world of pharmaceutical packaging and explore its importance, trends, challenges, and future.Pharmaceutical packaging is the process of enclosing pharmaceutical products in a package that provides protection, identification, and information to the consumer. The packaging of pharmaceutical products plays a vital role in ensuring their safety, efficacy, and quality. Importance of Pharmaceutical Packaging : Pharmaceutical packaging plays a critical role in ensuring that the product reaches the consumer in a safe and effective manner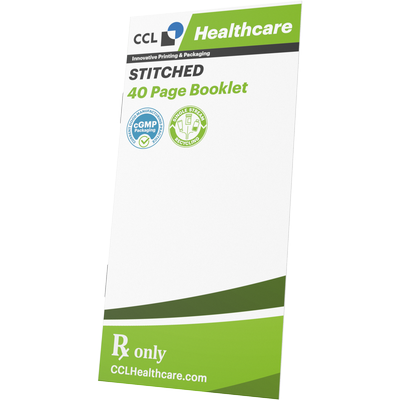 Blog
Booklet
Medical Device
A medication start-up guide is a comprehensive guide that provides information and guidance to patients who are starting a new medication. The guide typically covers a range of topics related to the medication, including dosing instructions, potential side effects, and safety information.