Nearly 7 Decades of Serving Other Regulated Markets
CCL Healthcare has 65 plus years of design, converting, and printing packaging in the regulated markets. We have the experience and knowledge to help your company evaluate what the best type of materials and packaging format will work for your product. However, when regulations get in the way, CCL Healthcare has a solution that will allow your product to stand out and provide the proper regulatory information or functionality that is needed to meet even the strictest of regulations. Let CCL Healthcare use our extensive pharmaceutical experience to ensure your product not only complies with regulatory requirements, but equally looks great doing so. 
You can rest assured that our experienced consultants are available to help design your packaging and labels to be fully in compliance. Our strict cGMP process ensures our products are manufactured to the highest quality available for your market. Our global presence and manufacturing footprint are unmatched in the industry with 34+ specialized healthcare sites. This allows us to provide the highest level of service, technical expertise, and product innovation anywhere your product needs to go.  
Partner with CCL for your next study to receive:
Printed Literature
Leaflets, Booklets, IFUs, and Pads
Pharmaceutical Labels and Packaging Blog
Welcome to the world of pharmaceutical packaging! In this blog, we will dive into the world of pharmaceutical packaging and explore its importance, trends, challenges, and future.Pharmaceutical packaging is the process of enclosing pharmaceutical products in a package that provides protection, identification, and information to the consumer. The packaging of pharmaceutical products plays a vital role in ensuring their safety, efficacy, and quality. Importance of Pharmaceutical Packaging : Pharmaceutical packaging plays a critical role in ensuring that the product reaches the consumer in a safe and effective manner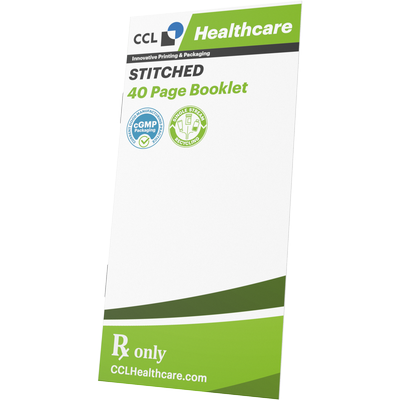 Blog
Booklet
Medical Device
A medication start-up guide is a comprehensive guide that provides information and guidance to patients who are starting a new medication. The guide typically covers a range of topics related to the medication, including dosing instructions, potential side effects, and safety information.