Pharmaceutical Label Products Pharmaceutical Label Products Overview
Pharmaceutical label products are customizable and be made with many different features. Custom configurations, designs, and sizes are available. Promotional and functional features can be built into our label products making them an effective marketing tool. High-quality materials, thin foil lamination, specialized adhesives and selected printing inks offer a high degree of flexibility and appeal with our labels. Our label products are printed on pharmaceutical grade paper using high-grade adhesives and are available in black & white, spot color, full color, and the industry's largest variety of finishings. All our day labels are manufactured in cGMP facilities to ISO Standards with 100% electronic verification.
Why CCL for Pharmaceutical Label Products?
Our pharmaceutical and healthcare labels are printed with the most advanced equipment available in the industry. Pairing our highly trained and qualified staff with our robust SOP's and cGMP facilities allows us to exceed our customers quality expectations. Our investment in equipment and people have allowed us to continually be the market innovators and grow our pharmaceutical labels and packaging, as well as secondary packaging offerings to meet the unique challenges that the pharmaceutical and healthcare industry demands.
When it comes to quality, CCL Healthcare is the market leader investing heavily into vision verification systems and establishing the standard for pharmaceutical printing in the industry. The standard includes ensuring every product is 100% verified and documented for traceability. We manufacture under cGMP and ISO standards in temperature and humidity control facilities. Our dedicated quality assurance team and production departments follow strict SOPs and CSPs in fully segregated manufacturing areas. Our global presence and manufacturing footprint allows you to go global with 34+ specialized healthcare sites. Our experienced staff provides the highest level of service, technical expertise, and product innovation anywhere you are.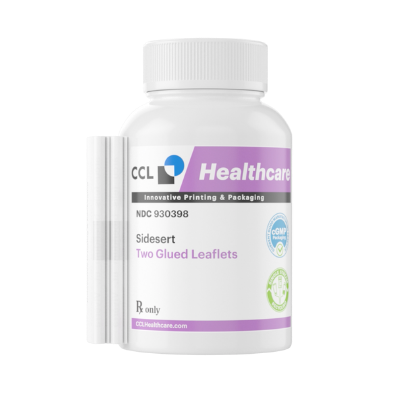 Blog
Leaflet
Packaging Solutions
Twinsert pharmaceutical leaflets, also known as Twin-Serts or Twin-Leaflets, are a type of folded leaflet commonly used in the pharmaceutical industry. These leaflets are designed to provide detailed information about a medication or medical device to patients and healthcare providers.
Twinsert leaflets are called "twin" leaflets because they combine two separate leaflets into one package. This allows for the inclusion of more information in a smaller package size, which is beneficial for pharmaceutical companies looking to reduce packaging costs and environmental impact.