Printed Patient Information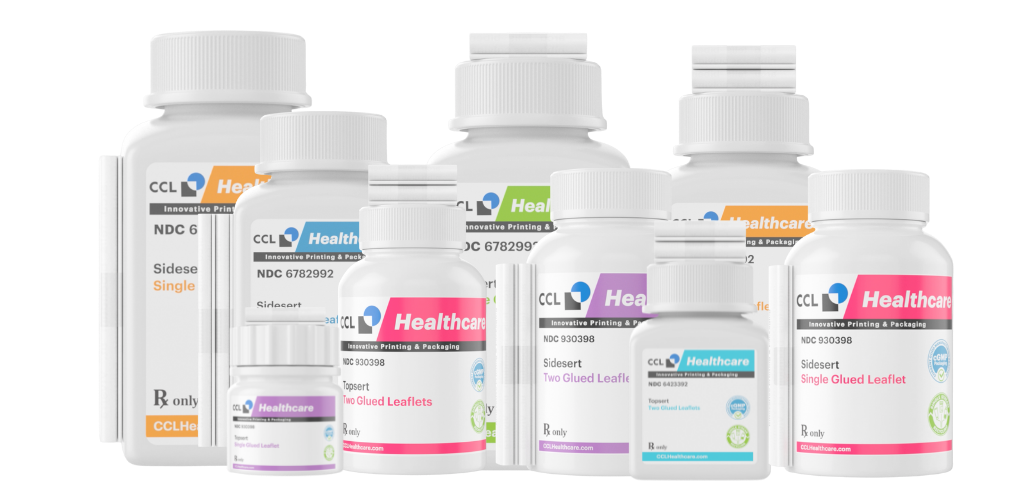 Printed Literature - Folded Leaflet Outserts
Outserts are an important form of patient information leaflet that is widely used in the pharmaceutical industry. CCL Healthcare offers topserts and sidecars both single leaflets and glued piggy backed as well as offering finishing of glued leaflets or c-clips. Outserts are made from a single sheets of printed information are folded down into small, compact pieces and affixed to medication containers. The customization of outserts is an important factor in ensuring that patients have access to the information they need to use medication and devices safely and effectively.
Outserts have a large space for information, which allows room for multilingual instructions, making it easier for patients to understand how to use the medication properly. These leaflets also include information for physicians and consumers, such as side effects, instructions for use (IFU), and more. With capabilities of up to 350 printed panels, outserts can provide comprehensive information about the medication.
The color capabilities of outserts range from one to upwards of ten with a coating, and can be achieved through multiple passes. This means that the pharmaceutical companies can choose a color scheme that best represents their brand and message. In addition, outserts can be customized to include branding and promotional messages, which can be important for building brand awareness and loyalty.
Outserts can also be combined to create a bundle, called a married outsert or twinsert/piggyback. This involves gluing one or more outserts together to create a bundle. This allows for multiple copies or additional package information, making it easier for patients to access the information they need.
Outserts are an important part of pharmaceutical packaging that provides important information to patients about the medication they are taking. By customizing outserts to include comprehensive information, multilingual instructions, and branding and promotional messages, pharmaceutical companies can improve patient outcomes and enhance their brand image.
Benefits of Folded Leaflet Outserts
There are many features that allows you to customize your folded leaflet outserts. Some of the benefits are as follows: 
Up to 10 color printing 
Print on very thin paper (from 40 grams onward)
Black and white, spot color, and full color
A variety of in folding possibilities
Inserts and Outserts
Variable Printing 
Barcoding 
Serialization
Piggy-back
C-clips
Why CCL for Printed Patient Outserts -Folded Leaflets
CCL Healthcare is a leading provider of printed patient literature products that are designed to cater to the unique needs of the healthcare industry. We offer an extensive range of features that can be customized to suit the specific requirements of our customers. As the demand for innovative packaging solutions increases, our product line continues to grow to meet the needs of the healthcare industry.
At CCL Healthcare, we work closely with our customers to ensure that they have the best labels and packaging for their products. Our product engineers are highly skilled and experienced, and they work tirelessly to provide our customers with the highest quality solutions.
Our product engineers can custom design labels and packaging that meet your specific requirements. This includes any packaging needed to secure your product in any configuration. Our product line includes a wide range of printed packaging products, such as user manuals, labels, folding cartons, partitions, carton tray dividellas, smart packaging, and specialty products.
CCL Healthcare has a global presence and manufacturing footprint, which means we can help you go global with 34+ specialized healthcare sites. Our experienced staff can provide the highest level of service, technical expertise, and product innovation, no matter where you are located.
In conclusion, CCL Healthcare is committed to providing the healthcare industry with the highest quality printed literature products and packaging solutions. We understand that the healthcare industry is constantly evolving, and we are dedicated to staying at the forefront of these changes to ensure that our customers have access to the best possible solutions.