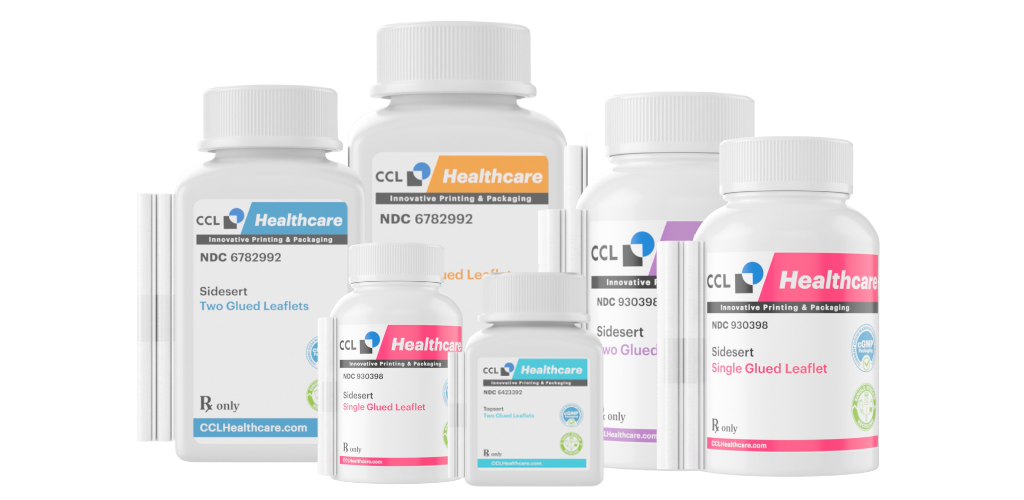 What are Folded Sidesert Leaflets?
Folded Sidesert Leaflets are a type of label that is affixed to the side of a bottle or container. These labels are made up of leaflets that are glued at a right angle to each other, forming a "Z" shape. The sideserts are designed to provide patients with important information about their medication, including dosage instructions, potential side effects, and any other relevant information.
One of the key advantages of sideserts is their accessibility. Since they are affixed to the side of the container, patients can easily access the information they need without having to remove the label or packaging. This is particularly important for patients who may have difficulty reading small print or who are visually impaired.
Sideserts also provide a convenient way to include regulatory information on medication packaging. This can include information about the manufacturer, expiration date, and lot number, as well as any warnings or precautions that patients should be aware of.
Why Choose CCL for Folded Leaflets Sideserts
Folded leaflets and sideserts are essential printed materials that provide important information to consumers about products, especially in the pharmaceutical and healthcare industries. Pharmaceutical and healthcare products often require detailed instructions for use, dosage information, and possible side effects. Folded leaflets and sideserts provide a convenient way to communicate this information to consumers.
Folded leaflets are typically small booklets that can contain a significant amount of information. They are often folded multiple times to fit within the product packaging. These leaflets are usually made of high-quality paper stock to ensure that the information remains legible and that the leaflet is durable.
Sideserts, are designed to be more compact than folded leaflets while still providing the necessary information to consumers. They are flat sheets that are printed on both sides and folded to fit inside the product packaging. Sideserts are often made of thinner paper stock than folded leaflets but are still designed to be durable and long-lasting.
In the healthcare industry, accurate and clear information is critical to ensure that consumers use products safely and effectively. Folded leaflets and sideserts play an important role in achieving this goal. They provide consumers with the necessary information to make informed decisions about their healthcare and help to ensure that products are used safely and effectively.
Why cGMPs and Pharmaceutical Companies turn to CCL Healthcare.
CCL Healthcare is committed to providing high-quality printing services to the pharmaceutical and healthcare industries. Our extensive range of literature options is designed to meet the regulatory, multilingual, and instructional demands of the healthcare packaging industry. We offer a wide range of folded package inserts, outserts, padded inserts, booklets, glued pads, and more, all of which can be customized to fit your specific content needs.
Our literature options provide ample space for detailed legislative and patient information, with the flexibility to include multiple languages. Our booklet styles come in various sizes, page counts, and formats, and can be glued or stitched. We also offer a range of stocks, colors, inks, and high-quality materials to suit your needs.
At CCL Healthcare, quality is our top priority. We invest heavily in vision verification systems and establish the standard for pharmaceutical printing in the industry. Our products are 100% verified and documented for traceability, and we manufacture under cGMP and ISO standards in temperature and humidity-controlled facilities. Our dedicated quality assurance team and production departments follow strict SOPs and CSPs in fully segregated manufacturing areas to ensure that our products meet the highest quality standards.
With our global presence and manufacturing footprint, we can serve customers from all over the world with our 34+ specialized healthcare sites. Our experienced staff provides the highest level of service, technical expertise, and product innovation to meet your needs, no matter where you are.