Medical Device Packaging Solutions
Nearly 7 Decades of Serving the Medical Device Industry
CCL Healthcare product engineers work side-by-side with your team to ensure you have the right labels on your device. Materials and adhesives always matter. The adhesive must be able to adhere properly to the device and be able to withstand any normal wear and tear the product may experience in the medical device's journey. Our product line has everything you need for your medical device. CCL healthcare provides a wide range of printed packaging including printed literature for use manuals, labels, promotions, folding cartons, smart packaging and specialty products. Our global presence and manufacturing footprint allows you to go global with 34+ specialized healthcare sites. This allows us to provide the highest level of service, technical expertise, and product innovation anywhere you are. 
Labeling and packaging solutions that enhance the user experience, always with patient safety and education as a priority
The Medical device industry is constantly evolving and developing new cutting edge innovations in technology to lower the risk during medical procedures, improve patient outcomes and help patients monitor health vitals from their mobile devices.
CCL Healthcare has been serving the medical device industry for more than 40 years with innovative labeling and packaging solutions to enhance the user experience for medical staff with patient safety and education as a priority.  CCL offers cutting edge solutions with smart labels and packaging that can communicate with the end user to ensure the integrity of an implant or medical device. With CCL's diverse line of products, we offer a single source solution which streamlines the supply chain with the added advantage of driving down cost. With a proven track record of 98% on time delivery, superior quality, and a stringent quality assurance process, you can depend on CCL to deliver.
CCL is a key partner in the supply chain and is a True Single Source Solution for the medical device industry.
Explore Our Pharmaceutical Labels and Packaging
Literature
Leaflets, Booklets, IFUs, and Pads
Sustainable Packaging by Design
Pharmaceutical Labels and Packaging Blog
Welcome to the world of pharmaceutical packaging! In this blog, we will dive into the world of pharmaceutical packaging and explore its importance, trends, challenges, and future.Pharmaceutical packaging is the process of enclosing pharmaceutical products in a package that provides protection, identification, and information to the consumer. The packaging of pharmaceutical products plays a vital role in ensuring their safety, efficacy, and quality. Importance of Pharmaceutical Packaging : Pharmaceutical packaging plays a critical role in ensuring that the product reaches the consumer in a safe and effective manner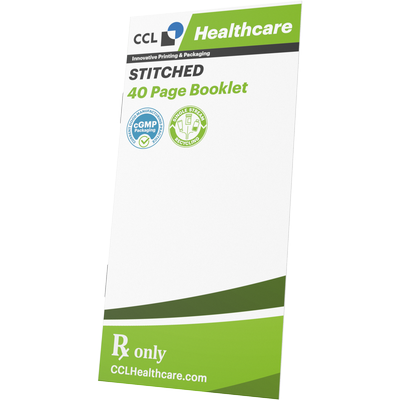 Blog
Booklet
Medical Device
A medication start-up guide is a comprehensive guide that provides information and guidance to patients who are starting a new medication. The guide typically covers a range of topics related to the medication, including dosing instructions, potential side effects, and safety information.