Biotechnology Packaging Solutions
Nearly 7 Decades of Serving the Biotechnology Packaging Industry
CCL Healthcare is the go-to supplier for the biotechnology packaging industry. We lead the market in high-mix low volume manufacturing and specialize in developing new products all the way through commercial launch at a global scale. Our technical experience keeps us ahead of the industry as we are constantly innovating new products, enhancing our manufacturing process, and offering new solutions to the ever-changing landscape of biotechnology. CCL Healthcare provides a wide range of printed packaging including printed literature, labels, folding cartons, smart packaging and specialty products such as cryogenic packaging solutions. Our global footprint of over 34+ dedicated cGMP healthcare facilities has strict process controls and superior quality systems that make CCL Healthcare the right choice for your company.
CCL Healthcare Knows Biotechnology.
It's important for biotechnology companies to work with an experienced labeling and packaging partner like CCL Healthcare that has been established in the biotechnology industry for decades. CCL is known for developing custom labeling and packaging solutions to ensure patient safety, protect brands and drive revenue to optimize the impact on the market place.
CCL is able to offer biotechnology companies labeling solutions, cold chain solutions, brand protection, tamper evident seals, supply chain solutions and much more. As a single source solution CCL Healthcare can provide the biotechnology industry complete packaging kits or individual solutions.
A biotech company is looking for several packaging components for a biologic ready to go market
CCL Healthcare has the Solutions
The advantages of working with CCL, a true single source supplier, is our ability to provide innovative packaging solutions to clients as a single component or as a kit. This eliminates multiply suppliers, eases the burden on the supply chain, can eliminate steps in the packaging line, reduce the cost, and produce a dynamic packaging solution.
Explore Our Pharmaceutical Labels and Packaging
Literature
Leaflets, Booklets, IFUs, and Pads
Pharmaceutical Labels and Packaging Blog
Welcome to the world of pharmaceutical packaging! In this blog, we will dive into the world of pharmaceutical packaging and explore its importance, trends, challenges, and future.Pharmaceutical packaging is the process of enclosing pharmaceutical products in a package that provides protection, identification, and information to the consumer. The packaging of pharmaceutical products plays a vital role in ensuring their safety, efficacy, and quality. Importance of Pharmaceutical Packaging : Pharmaceutical packaging plays a critical role in ensuring that the product reaches the consumer in a safe and effective manner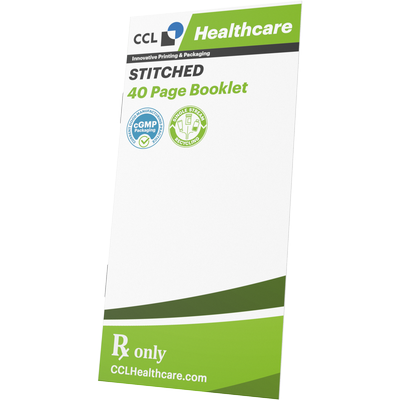 Blog
Booklet
Medical Device
A medication start-up guide is a comprehensive guide that provides information and guidance to patients who are starting a new medication. The guide typically covers a range of topics related to the medication, including dosing instructions, potential side effects, and safety information.