Pharmaceutical Tamper Evident Labels
Tamper Evident Labels Overview One of the main concerns regarding product tampering is consumer and patient safety, especially when it comes to pharmaceuticals, vaccines, biologics, medical devices, natural health supplements, and other regulated products that are consumed by patients and consumers. Tampering with these items can cause seriously harm to people while putting their health and safety at risk. CCL Healthcare's has developed an entire product line to address product tampering for a large variety of container types such as folding cartons, vials, syringes, bottles and more. We have a tamper evident solution for you no matter the type of container. Tamper Evident Labels are part of CCL Healthcare's layered approach to brand security and we offer numerous printed brand security features that can be added to tamper evident label and neck bands. When it comes to tamper evident labels we have can manufacture any shape size in combination with security cuts and security materials.
Tamper evident products are the first line in defense allowing consumers or end users identify if a product has been tampered with and help brands avoid costly negative reputations from being victims of a tampering scheme. Not all packaging threats can be eliminated, but CCL Healthcare's Tamper Evident Solutions make it obvious to the consumer or end-user that their product has not been tampered with.
Tamper-evident labels or Tamper resistance labels are the first layer of protection to a package. Tamper-evident labels can be designed from a large array of substrates and combined with a layered approach of brand security, combining more than one security feature to strength the packages protection.
Carton Seals indicate if a product has been tampered with by leaving behind a void message, label material, or noticeably damaging the packaging. Tamper Evident Shrink labels can be produced in a full graphic body shrink integrating this security feature into an aesthetically pleasing package or be used as tamper-evident bands for bottles. Void Labels are able to identify a compromised item by leaving a message on both the label and item that it is adhered to. The label can be printed with custom messages, logos, or images which provides additional security.
Why CCL For Tamper Evident Labels
Counterfeiting and Tampering can cost a brand reputation and millions of dollars to rebuild it. Tamper Evident Packaging, whether it is cartons seals, bottle seals, shrink bands, or shrink sleeves is a critical layer of defense for brands to ensure consumer and patient safety. With CCL Healthcare's brand protection solutions, your products will be 100% protected. We use durable Tamper-Evident materials to ensure your product has the best counterfeit protection throughout the supply chain. We have an array of Tamper-Evident offerings that can bond to different packaging materials and products such as cardboards, plastics, and different substrates. The Tamper-Evident high-adhesive bond material leaves behind a pattern on the package surface that prevents relabeling onto a counterfeit ensuring authenticity.
Our product line grows as the demand for innovative solutions increases. That is why our engineers are constantly looking at materials, substrates, adhesives, specialty inks, and security inks to develop the most robust tamper-evident offerings in the marketplace. Our product lines are custom-designed, specifically to customers' formats and requests. Our line of Tamper-Evident Products include, colored films, multi-layer substrates, frangible label substrates, security cuts, hidden messages, buried graphics, de-laminate substrates, pilfer indication, shrink sleeves, tamper bands, tape seals, and more.
When it comes to quality CCL Healthcare is the market leader investing heavily into vision verification systems and establishing the standard for pharmaceutical printing in the industry. The standard includes ensuring every product is 100% verified and documented for traceability. We manufacture under cGMP and ISO standards in temperature and humidity control facilities. Our dedicated quality assurance team and production departments follow strict SOPs and CSPs in fully segregated manufacturing areas. Our global presence and manufacturing footprint allows you to go global with 34+ specialized healthcare sites. Our experienced staff provides the highest level of service, technical expertise, and product innovation anywhere you are.
Explore Our Pharmaceutical Labels and Packaging
Literature
Leaflets, Booklets, IFUs, and Pads
Pharmaceutical Labels and Packaging Blog
Welcome to the world of pharmaceutical packaging! In this blog, we will dive into the world of pharmaceutical packaging and explore its importance, trends, challenges, and future.Pharmaceutical packaging is the process of enclosing pharmaceutical products in a package that provides protection, identification, and information to the consumer. The packaging of pharmaceutical products plays a vital role in ensuring their safety, efficacy, and quality. Importance of Pharmaceutical Packaging : Pharmaceutical packaging plays a critical role in ensuring that the product reaches the consumer in a safe and effective manner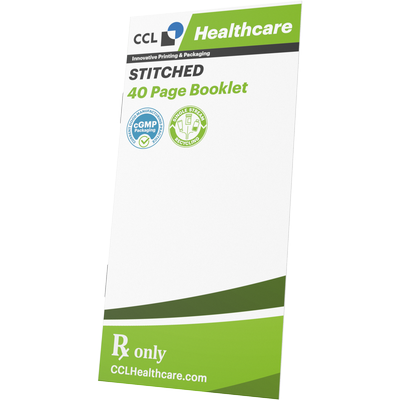 Blog
Booklet
Medical Device
A medication start-up guide is a comprehensive guide that provides information and guidance to patients who are starting a new medication. The guide typically covers a range of topics related to the medication, including dosing instructions, potential side effects, and safety information.