 Serving the packaging and promotional industry for over sixty years, CCL is the global supply chain leader of innovative premium packaging, promotional vehicles, and comprehensive label solutions for the world's largest consumer and healthcare corporations.
We see ourselves as problem solvers and can partner with our customers to create innovative solutions with functional labels and tags for various types of packaging.
Our latest technology to hit our healthcare market is CCLiD. CCLiD takes Secondary Packaging to the next level. It is an innovative way to collect information from users engaging with the product. CCLiD is a technology developed to track, collect, and protect different kinds of products across their journey in many different ways. The tracking capabilities allow for more information about the consumer to be collected as well as the ability to share information. CCLiD is a complete solution for brand protection and consumer experience.
The technology is accessible for all in the palm of your hand!
Image of Phone Interacting with NFC 
CCLiD allows the brand to understand a patient's medication usage and offers a series of direct interactions with the customer. The technology upgrades to re-order prescriptions. This capability can get a better understanding of the patient's adherence. Authentication is made easy with CCLiD. The consumer can be sure that they are consuming an original and safe product by reading the tag id on each product. From the consumer's perspective, there is security in knowing that the medication can be traced from the origin to the point of sale. NFC Traceability helps avoid the products from getting diverted or ending up in the gray market. This technology is essential since counterfeiting pharmaceuticals is a major concern not only for manufacturers but for consumers as well. 
Through unique NFC tags (Near Field Communication) it is possible to make each product unique and carry out any of the following functions: 
Consumption Information

Cross Selling

Promotional Campaigns

Strategic Information

Reading Map

Code Management
Counterfeit protection

Brand authenticity

Unique products

Security against outsourcing

Client Communication

Campaign Management
Offerings:
Labels with Individual Codes
Counterfeit Security

Brand Authenticity

Unique Products

Outsourcing Security
Operation System Apple & Android
Customer Communication

Consumption Information

Cross Selling

Promotional Campaigns

Customized APP
Web Portal
Strategic Information

Reading Map

Code Management/ Brand Protection

Campaign Management
CCLiD offers access for all, all the time!
The CCLiD App is available on Apple and Android platforms and it is simple and user-friendly.
Just open it and select reading mode – NFC Tag. 
Customer Experience
Customized promotional campaigns

Push Messages

Customer assessment/feedback

Consumption data

Interactivity

Authenticity Guaranteed

Information about losses, recalls and blocks

Promotional actions

Geographic Data 
The geolocation tracking occurs only when the label is read. The mobile phone isn't tracked in real-time.
Anti-Counterfeiting Protection

Traceability by geolocation

Database

Tag or batch block in suspected cases

Web Portal

The Technology is not developed for inventory management. 
CCLiD Security TAG
Codes are stored in a secure server, preventing hacker attacks 

The unique tag number (Tag id) will never be repeated

Monitoring the reading of the tags, allows a tag to be deactivated if needed

Besides Tag id,  the CCL iD offers trillions of different code combinations.

Tag protected against readings preventing the code from being copied
NFC Technology
NFC is a radiofrequency technology which allows data to be exchanged between different types of devices.
_ The reading distance is up to 2 inches.
_ It can  only be read at short distances.
_ It is considered a RFID device, as it can store data.
_ It has a unique identification number (7 positions).
_ It can be protected by a password.
_ It is virtually impossible to replicate.
_ It is possible to customize the written data at the web portal.
NFC Technology
Currently there are 3.0 billion cell phones with NFC. The list of NFC-equipped devices has been growing every day. Lots of Android devices have NFC, and every iPhone, from iPhone 6 on, also presents this feature. NFC has also been added to the iPad range, starting with the iPad Pro, the iPad Air 2, and the third-generation iPad Mini, but those devices won't work with in-store contactless readers. https://support.apple.com/en-us/HT208531
For cell phones that do not have NFC, there is also the possibility of attaching an external reading as the models below:
Frequently Asked Questions (May not be necessary, but we can rework this if we see value in this information.)
What can make a label be invalidated?
The label can be invalidated in case of theft, loss or misappropriation. The app displays a message as "valid product" but with restrictions. The invalidation can also occur with a label damaged by a shock, inappropriate liner tension during labeling process, antenna crack, etc.  
What prevents a label from being cloned?
It is impossible to prevent a tag id cloning. If a malicious chip manufacturer wants to replicate a tag id, it is impossible to stop them. That is why a tag id alone is not enough to guarantee the item safety. For this reason, CCLiD was created, to insert in the tag an extremely strong security layer.
A label has been falsified and has a fake NFC tag. What happens when CCLiD reads it?
An "invalid" tag will be displayed. It is impossible to associate a fake tag with a product in the app. 
CCL Smart packaging Proof Point
Printed literature pads with a glued spine that allow sheets to be teared off individually. The pads can be customized to any page count. Glued pads contain Directions For Use (DFU), commonly used in pharmacies allowing the pharmacist to rip off a sheet per bottle of medication to give to the patient. ​
Browse other Smart Packaging Options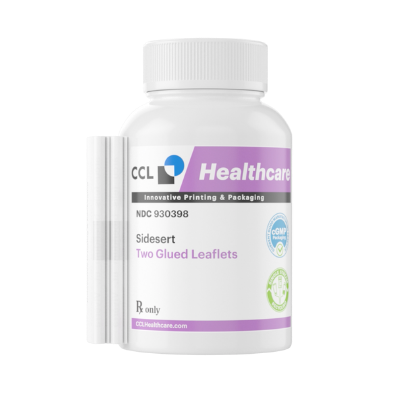 Blog
Leaflet
Packaging Solutions
Twinsert pharmaceutical leaflets, also known as Twin-Serts or Twin-Leaflets, are a type of folded leaflet commonly used in the pharmaceutical industry. These leaflets are designed to provide detailed information about a medication or medical device to patients and healthcare providers.
Twinsert leaflets are called "twin" leaflets because they combine two separate leaflets into one package. This allows for the inclusion of more information in a smaller package size, which is beneficial for pharmaceutical companies looking to reduce packaging costs and environmental impact.