 Specialty Labels and Packaging are custom label and packaging design to meet labeling requirements and provide functional features that enhance the packaging for the end-user. Specialty labels can be created to fit your specific requests for any of the features needed for your product. 
Why CCL for Specialty Packaging
CCL Specialty Packaging are the industry innovators creating with convenience in mind. We create functional labeling products to address the needs of the end-user from fulfilling labeling requirements to developing useful packaging enhancements. The enhancements are achieved through custom design, construction, materials, and in some cases smart functionality. Our Innovation Engineers work tirelessly to support the needs of the industry by creating a large array of functional labeling and packaging. Our global facilities are equipped with state-of-the-art printing equipment and technology that lead the market in innovation. CCL Healthcare is constantly evolving and innovating its products. In order to evolve it requires the right materials, and equipment to produce quality solutions. Our product engineers take the initiative to invest in custom machinery to develop new solutions even before it is in demand. Our product lines are custom-designed, specifically to customers' formats and requests. The product line includes braille, brand security, clinical labels, cryogenic labeling, detachable labels, expanded content labels, inverted hanger labels, multi-ply labels, on-pack promotions, smart packaging, sustainable packaging, temperature indicators, tamper-evident, variable data, and other custom products.
When it comes to quality CCL Healthcare is the market leader investing heavily into vision verification systems and establishing the standard for pharmaceutical printing in the industry. The standard includes ensuring every product is 100% verified and documented for traceability. We manufacture under cGMP and ISO standards in temperature and humidity control facilities. Our dedicated quality assurance team and production departments follow strict SOPs and CSPs in fully segregated manufacturing areas. Our global presence and manufacturing footprint allows you to go global with 34+ specialized healthcare sites. Our experienced staff provides the highest level of service, technical expertise, and product innovation anywhere you are.
Explore Our Pharmaceutical Labels and Packaging
Literature
Leaflets, Booklets, IFUs, and Pads
All
Blog
Packaging University 101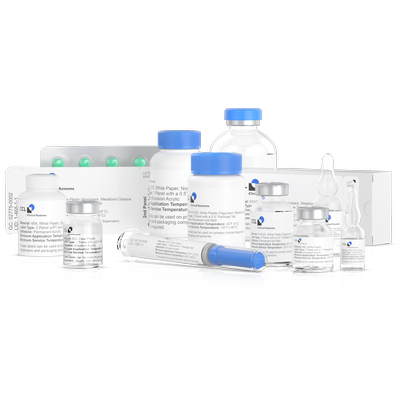 Blog
Expanded Content Labels
Expanded Content Packaging
Are you ready to step into the future of packaging and labeling solutions? Look no further – we're excited to invite you to an exclusive event that promises to reshape the way you think about product presentation and patient engagement. Prepare to be amazed by cutting-edge technology, innovative solutions, and a vision that's set to transform the pre-filled and injectable market.