3 panel expanded content leaflet labels (ECLs) are a folded ribbon of paper that can be printed on both sides and encapsulated with a pressure sensitive label that seals the leaflet to the container. This label gives 3 extra panels of real estate for medication information, instructions for use, and other pertinent information. The label is user friendly, resealable, and fully customizable to fit your packaging requirements. ECL's can provide a full graphic cover label that has all the great benefits of a pressure sensitive label.
Expanded Content Labels (ECL) leaflet labels are a multi-panel solution that is suitable for a wide variety of packaging types and is ideal for directions for use, informative labeling, and multilingual information. The expanded content label leaflet is encompassed into a self-adhesive, fully laminated label with an adhesive tab. Leaflets can be produced in an array of construction shapes and sizes with material types to suit your needs.
Expanded Content Label Options
Booklets
Stitched booklets: 4-184 pages
Glued bound booklets: 4-48 pages
Leaflets
Single Panel max: 16 panels
Multiple Ribbon glue bound max: 32 panels
Removable ECL leaflets allow the booklet to detach information without damaging the rest of the package.
Resealable ECL Leaflets allow the label to be opened and closed for repeated use. The leaflet label also has a resealable closure available in many different versions. It can be covered with a dirt repellent and attractive looking lamination.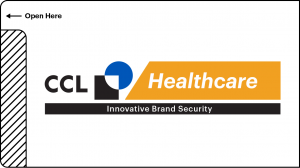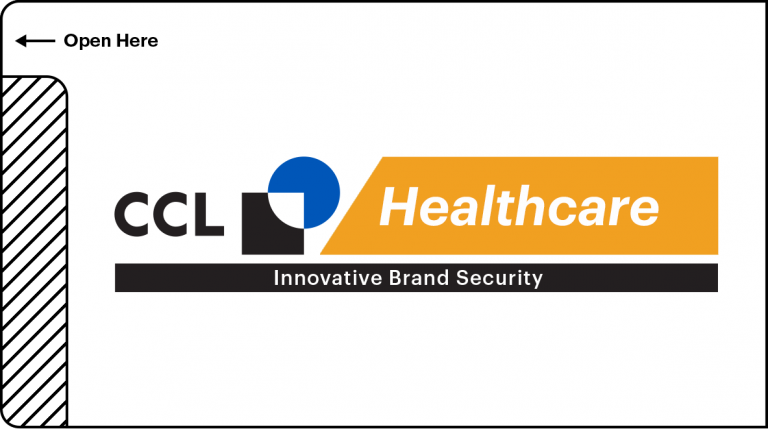 Tab opening direction options: left or right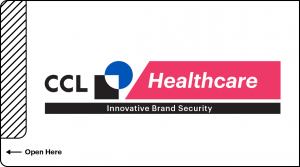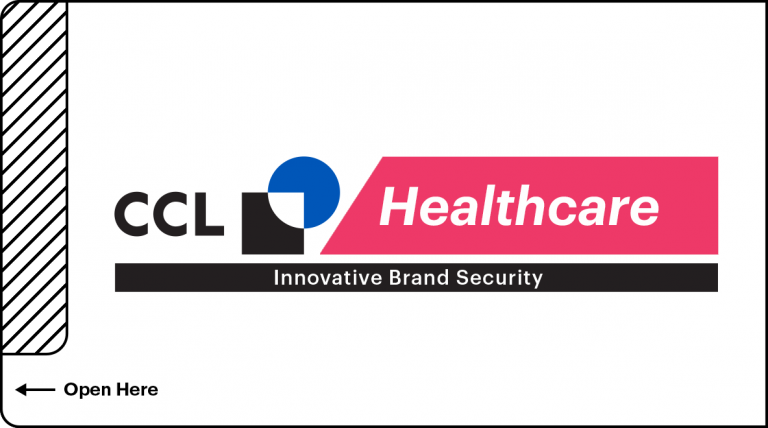 Tab opening direction options: left or right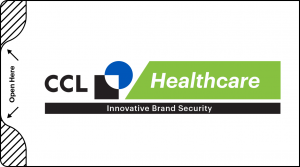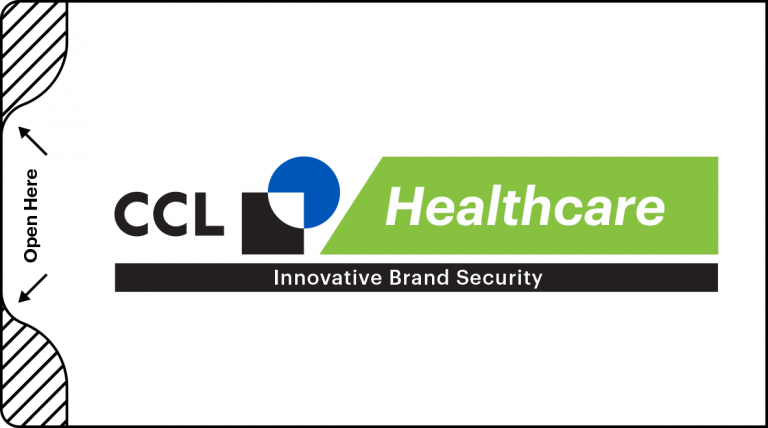 Tab opening direction options: left or right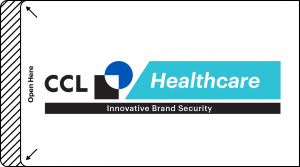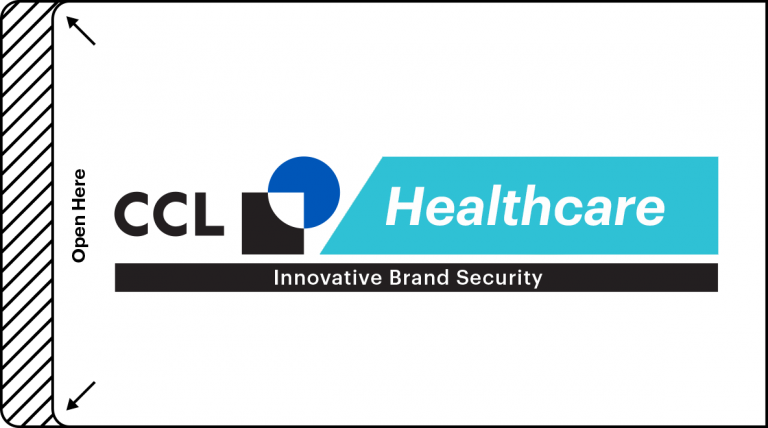 Tab opening direction options: left or right
Full Base Label -Expanded Content Labels
Full Base Labels are designed for use on flat surfaces including cartons, kits and cards. The base spans the entire length of the ECL from edge to edge. Bases can be constructed from a large array materials and is offered Clear, White, Black, Opaque or metalized substrates.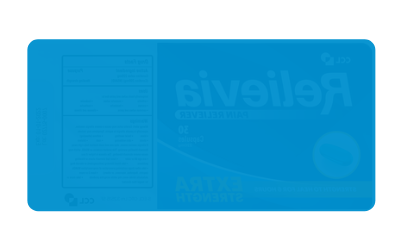 Full Base Section Shown in Blue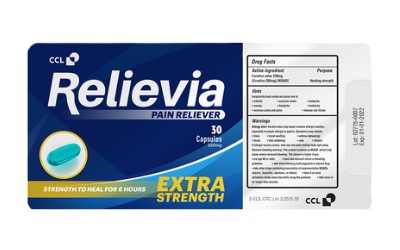 Partial Base Label -Expanded Content Labels
Partial Base Labels are designed for use with cylindrical clinical containers such as bottles, vials, canisters and syringes. Partial Bases are a small section of base that adheres to the container and allows the booklet to wrap around the curved surface, generally the tab section is used to adhere to the other side of the container, securing the booklet. Bases can be constructed from a large array materials and is offered Clear, White, Black, Opaque or metalized substrates.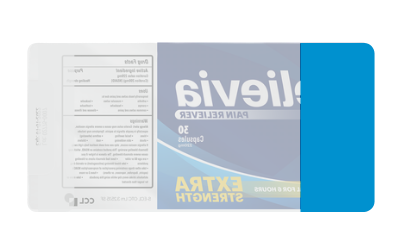 Small Partial Base Section Shown in Blue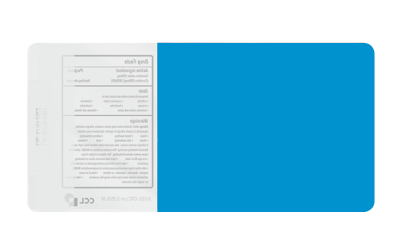 Large Partial Base shown in Blue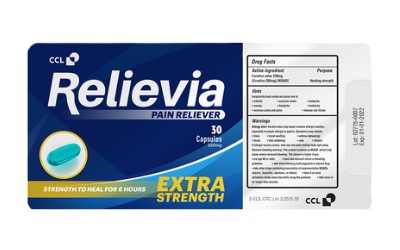 Segmented Label Base Construction -Expanded Content Labels
Segmented label base constructions are used when it is necessary to wrap a booklet label around one or more edges of a box or carton. As illustrated below it uses "2 base section" so the label is able to bend and adhere correctly around corners or tight radiuses. It is important to have all the packaging component dimensions when designing this type of label.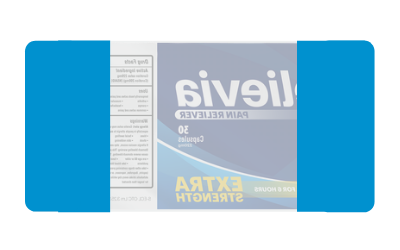 2-Base Section Shown in Blue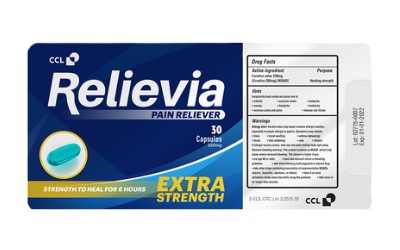 Other Available ECL Formats
Full Graphics OTC with ECL
Multi-Wrap
Encapsulated Tear off leaflet
Back label with leaflet
Back label with stitched booklet
Back label with glue bound booklet
Tear off leaflet with zipper opening
Clinical Booklets 
Available Imprinting Methods
Thermal transfer
Laser
Hot stamp
Data lase
Patterned Lamination for Imprinting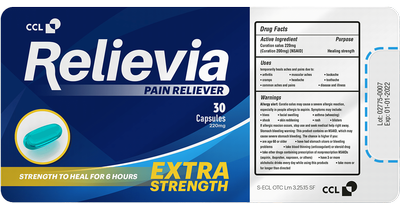 Patterned Lamination leaves an unlamented area for Imprinting.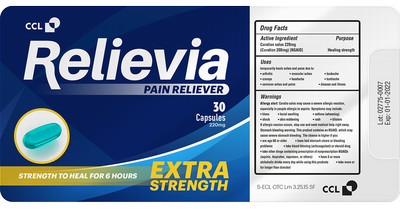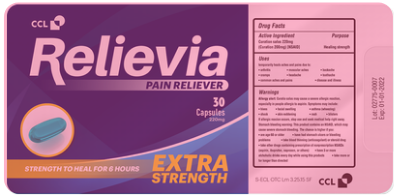 Full Lamination shown in pink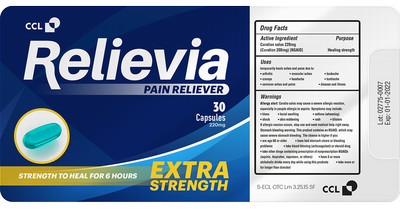 Compatible Container Types
ECL's can be custom made for many types of packaging. The flexibility of ECL's designs even allow the most difficult containers or primary package to accommodate an ECL.
Round Bottle
Square Bottle
Vial
Syringe
Ampule
Carton
Auto Injector
and More
CCL Healthcare is market leader custom cGMP printed packaging solutions. We offer the industries largest array of printed packaging and  functional secondary packaging products. The products shown on the website are only a small sampling of the formats, constructions, and configurations. To discuss your unique or custom packaging needs, please contact a packaging specialist.
Why choose CCL for Expanded Content Labels
CCL Healthcare offers a vast selection of Expanded Content Labels. Our product line grows as the demand for innovative solutions increases. CCL Healthcare product engineers work side-by-side with your team to ensure you have the best labels and packaging for your products. Our engineers focus on providing you with the highest quality solutions. 
CCL Healthcare product engineers can help custom design the labels you need. This includes any packaging to secure your product in any configuration. Our product line has everything you need. CCL healthcare provides a wide range of printed packaging such as printed literature for user manuals, labels, folding cartons, partitions, carton tray dividellas, smart packaging, and specialty products. Our global presence and manufacturing footprint allows you to go global with 34+ specialized healthcare sites. Our experienced staff can provide the highest level of service, technical expertise, and product innovation anywhere you are.