 Multi Product Vial Pack Folding Carton 21 Vial Pack Folding Carton
Pharmaceutical folding cartons are designed with trays to accommodate pre-filled syringes, vials, auto-injectors, and other self-injectables can be custom designed paperboard vial trays are a sustainable alternative to a plastic tray. CCL Healthcare can structurally design to fit your application and provide a sustainable approach. Paperboard trays are available for various types of primary containers and delivery systems  and can designed to hold a single item or a multitude of items, the example shown is a micro-vial tray suitable for 21 vials. 
Cartons can also be constructed with partitions or designated areas for instructions for use and medication guides.  
For more information about micro-vial tray folding cartons, reach out to a packaging specialist. 
Folding Cartons with Partitions for Multi-Product Packs
Folding cartons with partitions are an ideal solution for packaging vials, particularly in the pharmaceutical industry. These cartons are designed to securely hold vials in an organized and efficient manner, while also offering protection from damage during transportation and storage. Here, we'll take a closer look at the benefits of using folding cartons with partitions for vials, as well as some key design considerations to keep in mind. 
Benefits of Folding Cartons with Partitions for Vials 
Enhanced Protection
Increased Organization
Cost-Effective
Design Considerations for Folding Cartons with Partitions 
Material Selection
Partition Design 
Printing and Branding 
Sustainability
Browse other Folding Cartons Features
The CCL Folding Carton Advantage
Why Choose CCL Healthcare for Folding Cartons?
CCL Healthcare utilizes proprietary software that streamlines the quoting, ordering, design turn around, production, and finishing process to reduce lead times which allows CCL Healthcare to offer no minimum order quantities (MOQ's). Our automated front-end and investment in custom machinery enables us to deliver customized folding cartons in high-mix/low to medium-volume quantities in turnaround times that are unparalleled in the industry without sacrificing quality. Quality is built into everything we do and that is why we have invested heavily into 100% electronic inspection systems that allow us to detect the smallest defects and automatically remove the cartons from the production run ensuring we deliver superior quality first time every.
Browse Folded Cartons by Style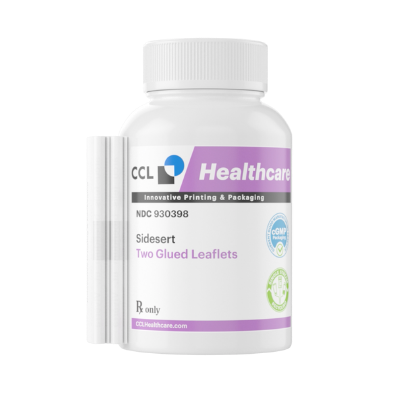 Blog
Leaflet
Packaging Solutions
Twinsert pharmaceutical leaflets, also known as Twin-Serts or Twin-Leaflets, are a type of folded leaflet commonly used in the pharmaceutical industry. These leaflets are designed to provide detailed information about a medication or medical device to patients and healthcare providers.
Twinsert leaflets are called "twin" leaflets because they combine two separate leaflets into one package. This allows for the inclusion of more information in a smaller package size, which is beneficial for pharmaceutical companies looking to reduce packaging costs and environmental impact.